Baby Suction Bowl - Terracotta
If you order within
Arrives by
sold in last hours
Description
Baby Suction Bowl in terracotta color
Spills? Psh, not in your house!
Let's face it. Toddlers can get a little rambunctious at dinner time. But you no longer have to duck for cover from a flying bowl of macaroni & cheese. Minimize unnecessary messes with our convenient Baby Suction Bowl! The strong suction base will adhere to most surfaces, and the quick-release tab makes removal easy for adults. Now if only you could keep your toddler in place so easily!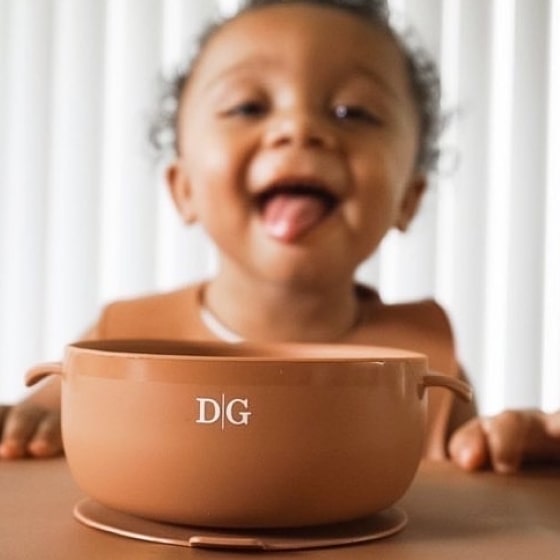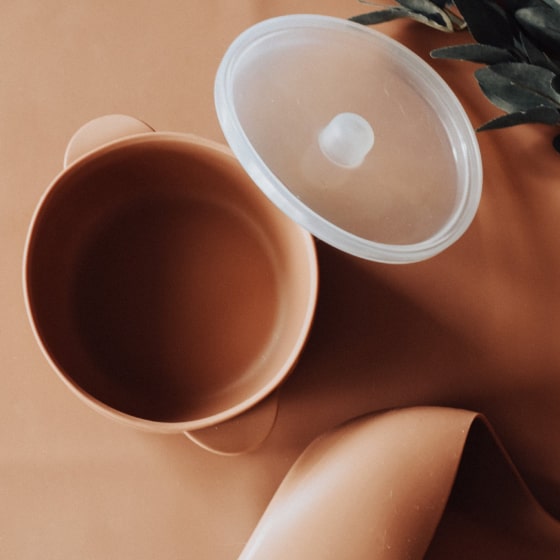 Baby Suction Bowl: features and details
Effortlessly introduce your baby to the world of independent eating!
A perfect baby's first bowl
With the perfect portion size, this Baby Suction Bowl is the right choice when it's time for your baby to learn to eat. Perfect for ages 4mo+. It features a stylish terracotta color, so it easily fits in your house decor.
How to use
Place the bowl on a surface & either press down on the handles or push down in the middle of the bowl. If you try to stick the bowl to an unfinished surface, the bowl won't stick. If the bottom of the suction is dirty, please wipe it off so the suction is at its full potential.
Food- and baby-safe material
You can rest assured that these baby bowls surpass all safety testing. They are FDA approved, CPSIA compliant, CPSC tested, CPSC certified. These baby bowls are made with the highest quality 100% food-grade silicone and are free of BPA, PVC, phthalate.
Ideal for lunches on the go
This bowl fits perfectly at the bottom of your diaper bag, and it has a lid, so bringing snacks on the go has never been easier. The lid is air tight, keeping food fresh and creating less waste.
Details and care
Dimensions: 5" l x 5" w x 2.5" h. Weight: 0.36 lb. Dishwasher and microwave safe (including the lid). Please note: this is not a toy, adult supervision is required.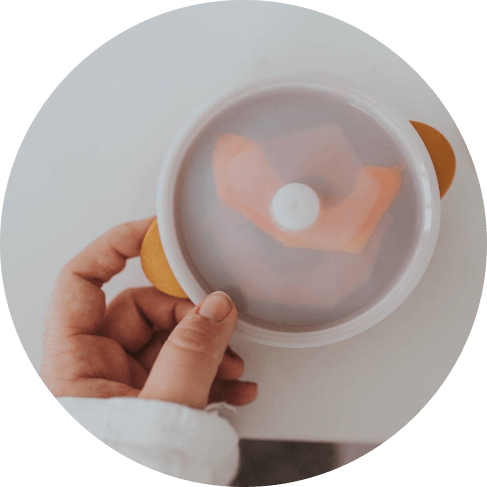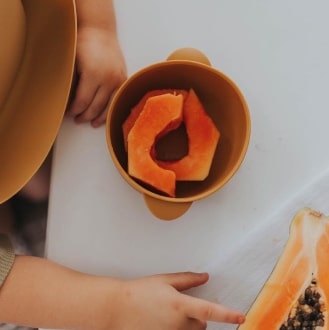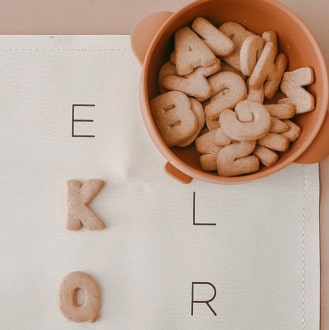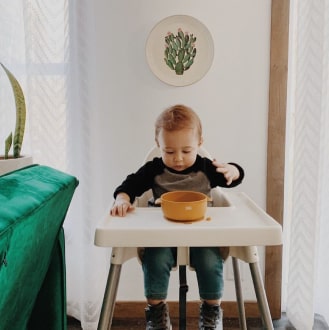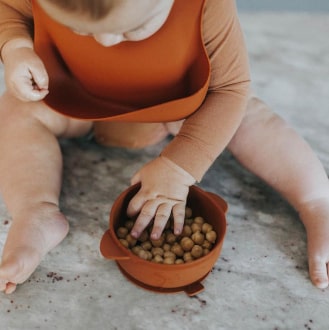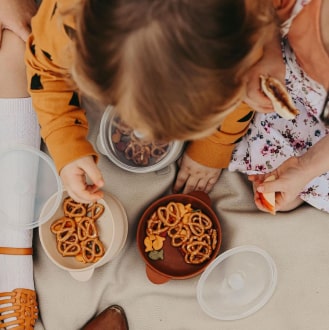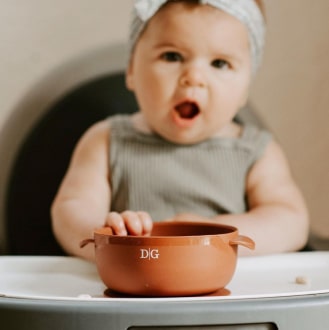 About The Dearest Grey
Hi, I'm Summer founder of The Dearest Grey! Everyones story starts some where and I'm here to tell you mine all started in hopes to bring a modern twist to baby products. Here at The Dearest Grey we take safety very seriously. We have all of our products put through a serious of testing done by a government approved facility (CPSC). Our colors are hand chosen to provide a unique style. Our products are also super functional and perfect for on the go. We also pride ourselves on our customer service. Check us out on Instagram! @thedearestgrey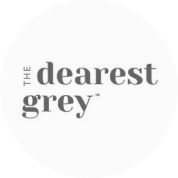 Designed In
Montgomery , Texas
Reviews
Reviews
Our reviews are verified for authenticity
Absolute best bowls I have ever bought!! The lids make them even more perfect!

Super easy to clean dishwasher safe! love the color choices! very good suction and i love that it comes with the lid.

A friend recommended these to me... great quality and I love the sleek look! The lid on top is a great addition. Will be buying more!

Best product by far. We threw out all our other bowls! Great for storing food too, in the fridge and on the go.

This bowl is AMAZING! It's silicone, comes with a lid, and has an amazing suction (even passed the throwing it at a window and sticking test😂)! These are my absolute favorite!

Such a great product! My daughter is a messy eater, these bowls keep it a little more clean and she can't pull the bowls off, like no movement at all! And the colors are gorgeous.

This is a great bowl! My 6m old can use his pincer grasp to take food out of the bowl without it tipping over and everything falling. The suction is super strong. Highly recommend this bowl!

This is the perfect size for my 18 month old. We have been using these bowls since he was 12 months. They are great for meals and snacks. We love that they are very durable and silicone.

This is such a great bowl for little ones. It will stick to surfaces that are solid or sealed like on our highchair or counter which is perfect for us. The clear lid is great for seeing what is stored inside and the lid seal is amazing! Had leftover applesauce and didn't spill in the diaper bag on way home.

The suction on this bowl is incredible !!! We will be purchasing more.

My husband and I love these bowls! Such a great quality for an affordable price! I ordered 2 bowls for my 6 month old baby, I love how they're so easy to clean and love the lid that comes with it! My 6 year old loves them too that I ordered 2 more!! Definitely worth it!! Don't think twice! Just buy them!!

It works wonders. It has great suction, it works on plastic, counter tops and our wood dining table.

Just received the bowl a couple days ago, and I'm absolutely in love with it. My boy loves it so much, too. It is so convenient that I could just throw it into the microwave to heat up the food and serve it to my toddler. I don't like to heat up food with plastic bowl. I usually used ceramic bowl to heat up the solid and transfer it to a new bowl, so it's not so hot to hold it. I wish I knew this product sooner!!

LOVE. LOVE. LOVE!!! These are excellent silicone bowls with lids! The suction is great and they are a breeze to clean😊

Hands down, the best bowl on the market. The bowl does not stain with anything. We love spaghetti and blueberries and those are known to leave stains and they don't stain these bowls at all. The suction on these bowls is perfect. My baby cannot move or lift these bowls. No more spills! The lid that comes with these bowls is another amazing feature. They're not a hard plastic so you can press down and seal the lid to the bowl. I do this to bring fruit in my diaper bag. Then secure the bowl to a restaurant table and boom! No spills and fresh fruit. And it doesn't leak out in my diaper bag. I can't say enough good things about this bowl!!!

I love these bowls! They are excellent quality and the suction works so well. I also love the way they look and all the pretty colors to choose from. These are hands down the best baby/kids bowls I've used. I definitely will be buying more when the time comes.

This is a dream bowl! The quality is extremely high, the material is buttery soft, the colors are beautiful, suctions well, and the lid is a total bonus! I've microwaved the bowl, stored food in the fridge (doesn't stain), and have loved using these for my kids! Can't wait to buy more!

I ordered this in Flamingo and totally loved the color of the bowl. It was exactly how I imagined it to be. It was easy to wash too. I just ran it under the water and the baby food washed away quickly leaving no stains (used sweet potato which was orange-ish). I was scared at first but thankfully it didn't stain the bowl like it did the silicone spoon I used it with. The cover it came with was a convenient feature for when you want to put food away. However, I find that the seal is not very effective in preventing liquids from spilling out. Still giving this review 5stars because I was only really after the suction bowl. I didn't purchase this for food storage since I mainly use glass for that. A liiiittle bit pricey for a bowl. But since I try to keep a minimalistic home.. I'd rather get one of these than the bright colored plastic ones in the market.

It seems to suction well (my baby hasn't hit the age of throwing everything off the tray lol) and is easy to clean. Love that it's silicone. I love the color and I love the bowl in general but I wish the lid stayed on better. We use it at home so it's generally not a problem but it would be nice to have a better seal.

Love the look (hurrah for non-garish colours!!), and the fact it has a lid, and that it is silicone. But the suction feature does nothing when my 7 month old twins grab the bowls.

Love the color and lid, but the suction is weak. Maybe I'm missing something? Did not come with any instructions on how to get the suction to perform optimally.

It's very cute and I love the fact that it's silicone and has a lid but it really doesn't suction to the high chair.