Baby Stroller Organizer
If you order within
Arrives by
sold in last hours
Description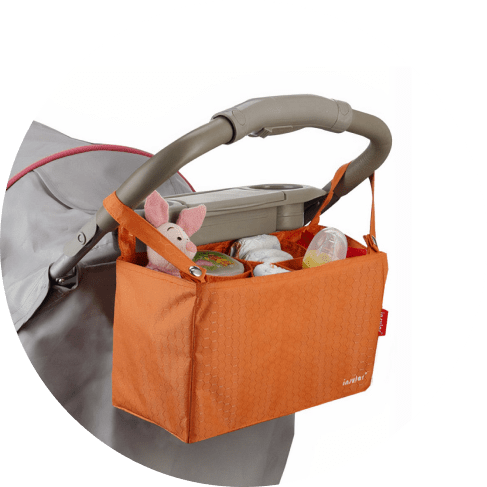 Going on a walk with your baby?
You know how difficult baby strolls can be when you have to bring all of your baby's things like food, toys, blankets and other essentials with you. For your comfort, we offer you a convenient organizer for a comfortable stroll!
Organizer specifications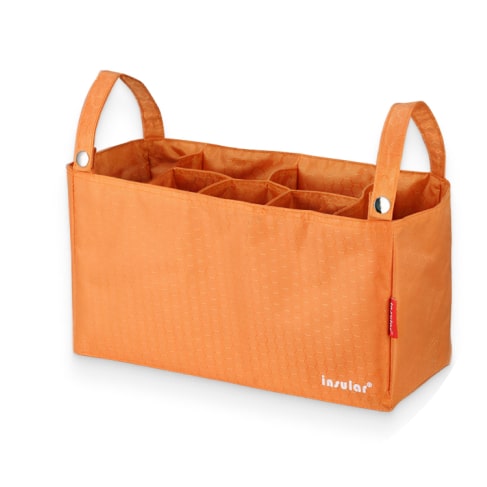 Item details
The organizer comes in a size of 34" x 5.5" x 7". Materials: oxford cloth, polyester. Color: orange. Pattern type: patchwork. Waterproof to keep all your essentials safe from water.
Easy to set up
It's incredibly easy to set up as it is compatible with everything from ultra-compact strollers to full-size travel systems. Simply attach it to the stroller's handles by wrapping it around and locking it up with the fasteners.
Multi-purpose storage solution
Store all of your baby's essentials and even your personal belongings in one place! Don't let all the little things ruin your strolls, simply place it in the bag and enjoy your quality time with the little ones. An absolute must-have for every parent! Which also makes it a great present for families with newborns or for baby showers.
Reviews
Reviews
Our reviews are verified for authenticity
Great product but it doesn't quite fit well on my baby's stroller. However I still take it with me everywhere. Recommend it.

I love the stroller bag! My stroller doesn't have any cup holders and I like to keep a bottle for my daughters with us at all times! We also have so many appointments with the kids that this bag will allow us to keep my wife's essentials on her without having to drag her purse everywhere!

Love this product. For how small it is, it holds so much more than I expected. The cup holder part has a really good insulator too. Keeps drinks warm for a long time. Oner pockets are also very-very useful. Love the color and waterproof material. Can recommend it to every mom in the world!

It's amazing! The stroller I bought was perfect for my baby but had no cup holder or anything for me. It came with this flimsy detachable cup holder that I knew would suck, so I ordered this and it came in just as my stroller did. Attached it right away and now I can't imagine not having it! It's so perfect I am glad I ordered this!

I purchased this to go with my dog stroller that I purchased because I was concerned that the drink holders would not be deep enough. It was a good call. This fits nicely onto the handles of my stroller without interfering with the stroller's drink holder and tray and the drink holders in this organizer are plenty deep enough. I love having the enclosed compartments too for holding unused poo bags, sanitary wipes, and tissues. I even have a small sunblock lotion bottle in there. It seems to be well made and has worked wonderfully with the stroller. So glad I got it.

Come so quickly. I had such a big diaper bag that it seemed too much to carry all the time so I wanted to get sth more convenient but still efficient and this stroller organizer is just right. It's enough space to carry all the necessary things I need for my baby and it fits perfectly well with my stroller. I was worried it did not go well but bc I have a black stroller as well so it all came together like a perfect piece. Since covid I can't really go out much, I don't need to bring tons of stuff with me ,and this can be put in and out so quickly. Every mama needs one of these.

Love this cute stroller bag!! I have been looking for something that works well with my stroller and it is perfect for it. It is sturdy and stays in place with all of the items you need. It holds my stainless steel water bottle, keys, sunglasses, phone without moving. I love that both cup holders are insulated and have a deep inner pouch area. I like putting my wallet in the removable pouch for easy transportation. 10/10! Recommend it!

I L-O-V-E this stroller bag! I'm a minimalist when it comes to getting around with a baby so we have a super lightweight stroller. But I needed a little more when it came to getting around with his bottle, water & stuff for me. The insulated cup holders - genius. Love the storage for snacks, keys, etc. Love the pockets for phones. It's well put together, good quality! I highly recommend it!

Great buy! We have a stroller that we like to take out on the more urban walks. Unfortunately, there's not much space for storage or drink holders. This attachment was SO easy, and comes with an added storage space. I'm happy with its design, and durability. I like the insulated cup holders, and other pockets. I also like the color and the size of it.