Anti-Wrinkle Defense Serum
If you order within
Arrives by
sold in last hours
Description
Love the sun?
You could be damaging your skin though
Reverse early signs of aging and sun damage with the Lumin Anti-Wrinkle Defense Serum. Loaded with vitamin C, hyaluronic acid, and pomegranate extract, harness the power of antioxidants and moisture-plumping goodness to smoothes lines and reduce signs of too much fun in the sun.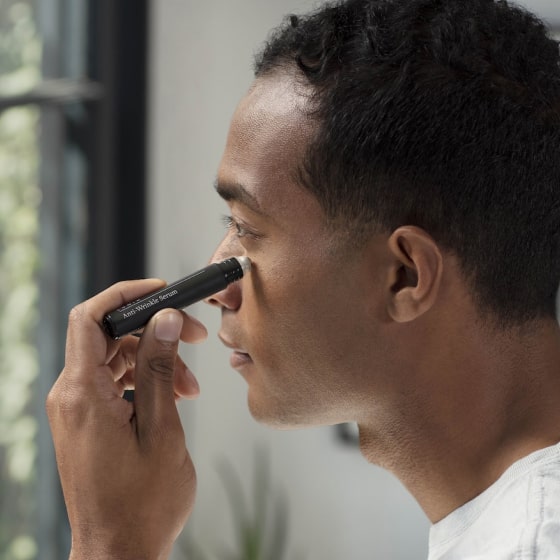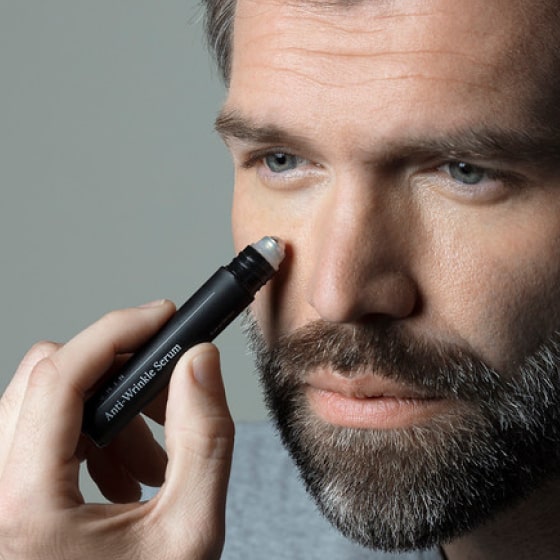 Hit snooze on aging
With one do-it-all wonder
Looking good is feeling good
Come on, fellas. We all wanna look (and feel) our best. So don't let premature wrinkles or sun spots damper your swagger and shine. Implement our serum day and night for better skin over time.
Sunscreen is a must
Remember, the best complement to any anti-aging serum is the ultimate anti-ager: sunscreen. Use daily with our serum for longer-lasting results.
Amazing skin helpers
From turnip to rice and green tea, we've got a cocktail of extracts to help firm, moisturize, and nourish for better skin, everyday.
Just roll with it
Our lightweight serum is packed in a roll-on ball pen for quick, sleek application. Roll under the eyes or on problems areas for a touch of good that goes a long way.
Premium care, just for men
Lumin prides itself on quality ingredients that really make a difference. Go from ordinary to extraordinary with the Lumin line of skincare and haircare must-haves for a better, more confident you.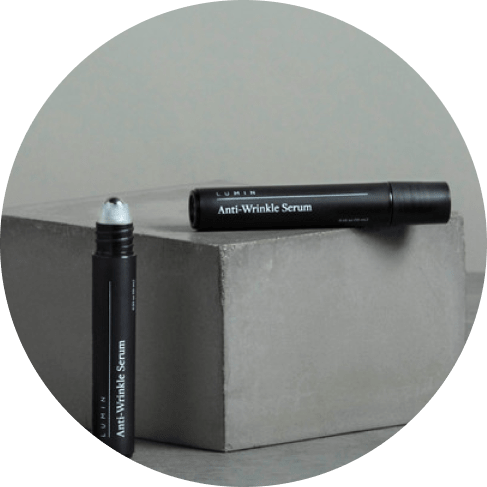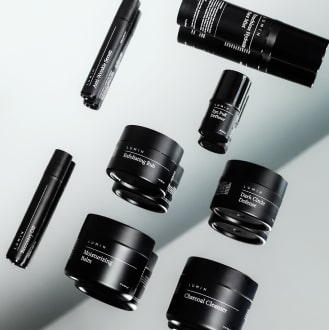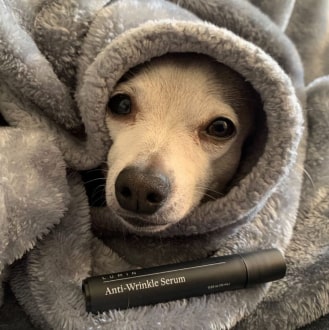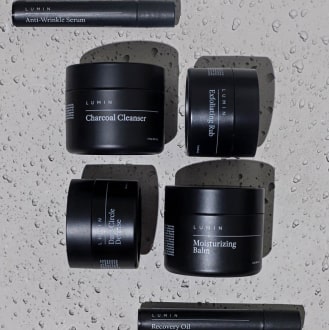 Reviews
Reviews
Our reviews are verified for authenticity
Works great for my husband.

Satisfied with this product.

A product I will always use

Started seeing results already in two weeks

I was surprised you can feel the effects in seconds.

Every man needs this in his bathroom. Truly turns the clock on your face!

good quality, my only wish is only its size was larger

Uncomplicated and very effective products geared towards the needs of men's skin.

I have used Lumin products before and been very pleased with the results. Once I started this routine within a few days family members commented on my skin looking great.

I really enjoy using Lumin products. The dark circle defense has been a lifesaver. I have allergies, so I always wake up with bags under my eyes, but this has made a huge difference.

I've only been using the product for 5 days but so far it's pretty damn great. My skin already looks smoother and the dark circles are fading. Really excited to see the results after 30 days!

I have used so many products for my dark eye circles and none have worked. I started using Lumin and I have noticed my dark circles disappearing and clearer skin overall. I give this product 10/10!

Noticed a difference after only a few days of using it! Really excited to see the results after a month

My son ordered this wrinkle cream and after I tried it, I liked it and ordered some for myself. I highly recommend it.

I travel internationally constantly and get sunburnt easily. This product was a lifesaver for my sun-damaged skin. Highly recommend it!

Have only just started using this, but so far so good. Lumin is the best thing I've used for men's face care. I'm hoping to see the same result with this that I have with the dark circle cream. Love it though it's pricey

This recovery oil has come in more handy than I ever thought it would be from a long flight to Japan to where it has saved my skin multiple times from cracking and drying.

This will be the only skin care you will ever need, it works amazing you will notice results in a few days my skin feels and looks better I love this stuff

This is another great product from Lumin. I began using this product and my facial skin felt amazing. I would definitely recommend this and all Lumin products to males of any age!

This stuff is great! I'm over 50 and have noticed a significant difference since I started using this product. Highly recommend it!

This is the perfect mobile skincare solution for long days and cold weather. It can fit in your pocket. I'm in New York so after a brutally cold day I'll pop some of this on and my skin immediately brightens up!

I'm 26 and constantly on and off airplanes for work, facing various climates, and using harsh hotel water can be very detrimental for my skin. I was introduced to Lumin about a year ago and now constantly travel with their full line of products. It has worked wonders for me and I have received various compliments which is what sells it for me.

What's up guys? If you're like me, you have tried a lot of mens facial products. All I'm going to say is that this is the best facial product line I have used in the last 25 years. Finally my dark circles and bags under my eyes are disappearing . It's only been a week since I've started using this line and I can already tell the difference. Definitely won't go wrong.
Anti-Wrinkle Defense Serum
$31.99