Adjustable Leaf Bracelet
If you order within
Arrives by
sold in last hours
Description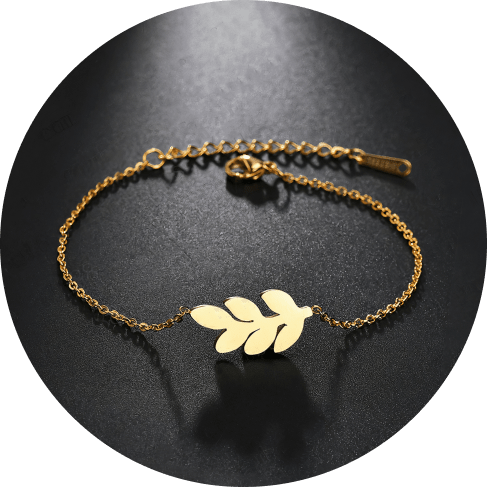 Adjustable gold bracelet
Gold leaf bracelet for women
A gold-colored bracelet is the perfect women's accessory for emphasizing the gracefulness and sheer beauty of a woman's wrist, as well as complementing her style and making her look unique. Refine your style with this adjustable leaf bracelet.
Silver leaf bracelet specifications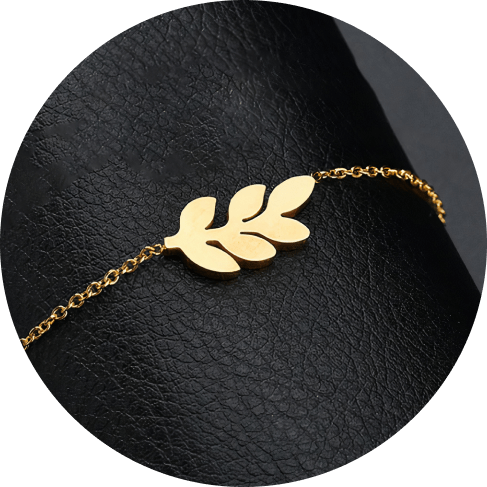 Care tips for jewelry
Keep the jewelry away from chemicals, high temperature, bath, water, sweating, cosmetics, moisture crash to avoid any damage, please treat it carefully. Store your bracelet separately in a sealed box or sealed bag to avoid oxidation
Bracelet details
The adjustable leaf bracelet is a hand bracelet made out of stainless steel. The weight: 0.14 oz. The length of the bracelet: 6.9 in.+ 2 in.
It's the perfect gift
Whether it's an anniversary, a party or any other significant date, this silver leaf bracelet is ideal for any woman to wear on any occasion. It will be the perfect addition that will highlight practically any look! By wearing this beautiful bracelet, you can experience an array of new positive emotions and boost your confidence level.
Reviews
Reviews
Our reviews are verified for authenticity
Bought as a gift for a friend. They liked it.

This bangle is lovely. I wear it with my watch.

Very pretty bangle great value for money

Lovely feather bangle for my friend who's just lost her mother.

Love this item and have worn it numerous times

Love it i wear It in memory of my mom it's elegant and just lovely thank you

Very cute. It's the 3rd I've bought and I will be buying another.

Lovely little bangle, feather for our missed love ones.

Great present fir a young teenager. Rather small & delicate so not for the larger wrist

Very pretty bought as a gift

Lovely, so glad I bought it, I ummed and Ahhed about it, glad I went ahead and bought it

Truly a lovely bracelet wasn't expecting much with the price so cheap but this is lovely total bargain and great gift

Ordered for a friend. Not sure how bendy it will be and don't need to try. Looks nice and good for the price.

Purchased 2 of these bangles for my friend's for Christmas they are beautiful, delicate and great value for money. They come with a beautiful velvet pouch. Perfect present that looks more expensive than it is.

This is a Beautiful bangle and would make a really good present for someone special. I shall be buying another, if you buy this bangle you will not be disappointed.

A pretty bracelet purchased as a gift. Nice weight. Seems easily adjustable with care. Nice design. Very good price. Arrived quickly. Am sure recipient will be pleased.

This is a pressie for a friend who has had a lot of bad luck lately. It looks beautiful but not sure how it fits but she has gone very thin so I'm sure it will go on her wrist just fine. Would definitely buy again.

This is a lovely bracelet for the wrist, but not necessarily for the upper arm. I had been looking for an upper armlet and it was included in that section because it's open-ended but even with my slim upper arms it doesn't really work and therefore pinches. However, I like it so much I'll keep it as a bracelet and look elsewhere for an armlet!

I bought this as a gift. It was hard choosing a gift online and not seeing it in person, and had it sent to their address but I'm glad I chose it. It is definitely value for money, looks more expensive than it was and my friend absolutely loved it.
Adjustable Leaf Bracelet
$24.99