Adjustable Gold Ring
If you order within
Arrives by
sold in last hours
Description
A sophisticated piece of jewelry
This fashionable accessory will elevate your look
A graceful design of this Adjustable Gold Ring and its lovely golden tone will add the ultimate modern touch to your regular looks. Make your outfits look lit!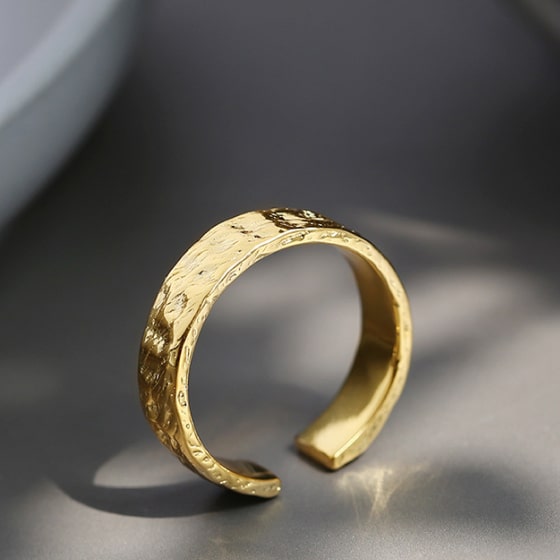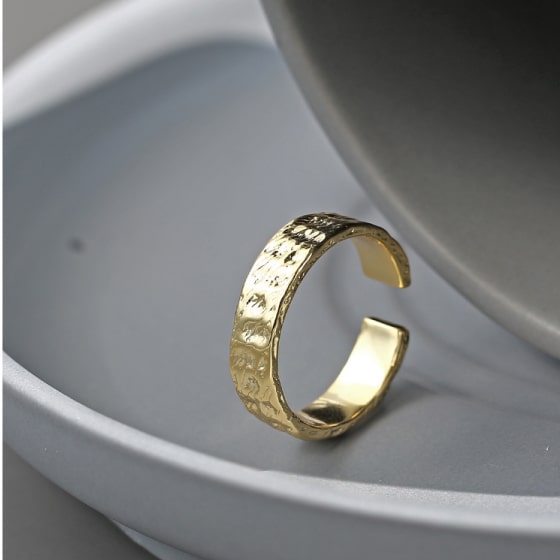 It's all in the details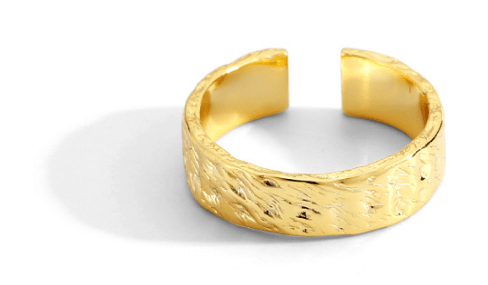 General characteristics
This elegant gold-toned ring is slightly adjustable for a perfect fit. Material: brass. Diameter: 0.69 in. Width: 0.2 in. Weight: 0.11 oz.
High quality
Brass jewelry possesses high corrosion resistance. It's a strong, durable, and long-lasting metal. So, feel free to wear this ring every day!
Perfect for any occasion!
Whether it's a date, party, or job interview, this Adjustable Gold Ring is suitable for any of the above and many other occasions! It goes well with any outfit and adds zest to your look. No matter what your plans are, it will be the perfect chance to shine with this ultra-modern and eloquent accessory!
Reviews
Reviews
Our reviews are verified for authenticity
I like this ring so much that I bought two more to give as gifts. No higher praise. It is really, really beautiful. Saw one like it on the Bold and Beautiful and was happy to find one like this here. Not "pure" gold, but a beautiful ring and looks great on my ugly hands.

The ring is exactly as pictured and exactly what I expected to get when I ordered it. I love that it can be adjusted a little bit, makes for the perfect fit. Thank you for making beautiful jewelry at an affordable price.

I love this ring! It takes a little adjusting to make it comfortable on your finger but after you adjust correctly, it's comfortable. The value of the ring is nicer than I expected and I keep getting compliments on my ring with 3 people saying they loved how thick it is! Great buy!

This ring is great! An inexpensive piece that looks great with my other gold jewelry. Love that you can adjust it, as buying a ring size online is not easy. The gold is a perfect real gold color, and doesn't look cheap. Also very comfortable!

I absolutely love this ring. I ordered it for summer because I love tanning naturally, and wanted to see the difference between before vs after. The ring is smooth on your fingers and doesn't feel constricting. I love the wide band and the smooth shiny gloss it has.

I love it! This is exactly the bold statement ring I've been looking for. Nice and polished, not too thick where it gets hot on your finger either. Definitely a nice addition to your wardrobe!

Perfect for a cheap little ring. I haven't taken it off yet b/c it is flat and doesn't get in the way. I can't even feel that it is on and I NEVER wear any jewelry. It serves the purpose for what I wanted.

Love this ring! I wear it on my middle finger but it's easily adjustable to fit pretty much any size. Definitely worth the price! And I get compliments every time I wear it.

I love this ring! It's simple, minimalist, well-made, lightweight and comfortable. Easily adjustable. High shine. I've received so many compliments.

Fits super easy! So far no green finger or tarnish, it's been a couple days now, hopefully it stays that way.

This ring is exactly what I expected. I love it. Stylish, modern, matches every outfit

This ring feels good quality - definitely a staple piece. Not the most comfortable but not uncomfortable either. It would be nicer if it didn't have the 'one size' factor where it can open up because that can pinch a little even when you open it, but it's worth it.

I love love this ring, you really have to care for it and not get it wet at all but it's great

Love the look, I wear it all the time. Surprisingly still "gold" despite not being gold.

Cute. Just wish I got it in a larger size

Fits like a glove and easily adjusts if need be. I can barely even notice I'm wearing it.