8-Piece Blending Sponge Kit
If you order within
Arrives by
sold in last hours
Description
Enhance your natural beauty
A sponge kit you need
This Blending Sponge Kit comprises 8 makeup sponges that will help you to achieve a flawless makeup base. Perfect your foundation with the 8-Piece Blending Sponge Kit!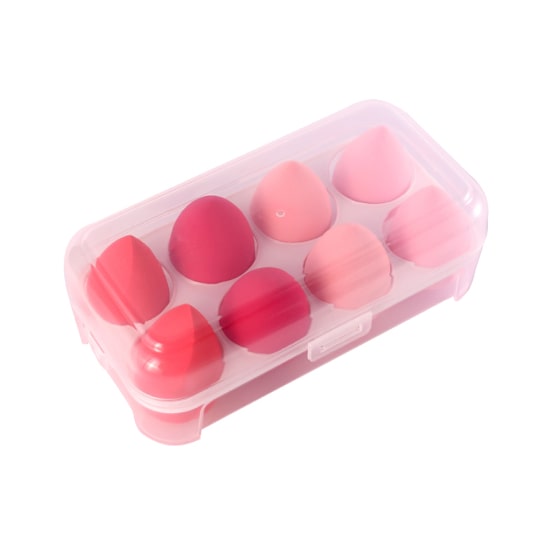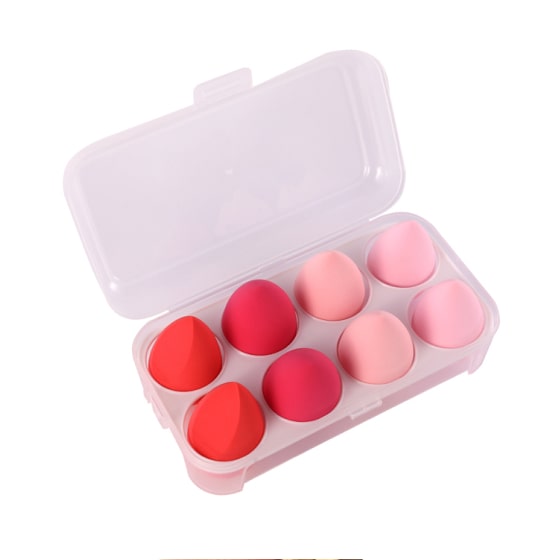 About the product
Sponge kit characteristics
Varying from strawberry red to blush pink, these makeup sponges are super soft and latex-free. They are perfectly sized for the apple of your cheek, allowing you to apply blush or highlighter in one swift bounce. Size: 2.4 in.* 1.6 in.
Application tips
Use the rounded end to blend all over the face. Use the flat edge of the sponge to blend under the eyes or all over the face. The flat edge can be used to contour around the eyes and nose as well.
Every girl's must-have
Is your foundation failing you? Forget about this problem forever! These wonderful sponges are designed to deliver and seamlessly blend the perfect amount of color. From powder foundations to cream blushes, this kit will help you create any look, nude or pigmented, to finish off your beautiful complexion.
Reviews
Reviews
Our reviews are verified for authenticity
Such a great price for 8 blenders! Very excited about colors and an egg carton like plastic container the blenders came in that allows to keep them fresh and clean before and after use. The blenders are really soft and work well for wet or dry makeup applications.

Works great! I`m happy with this purchase, the blenders are not too firm or not too soft, easy to use. They also clean up and dry well. And off cause the colors <3 !!!

I`m hooked! Love the style of these beauty blenders so much!!! The colors are perfect! Sponges work wonderfully for both wet and dry makeup and don't waste too much product if you're using them for foundation or concealer. Well spent money.

A great alternative to expensive BB brands, I absolutely love the colors and the container it comes in. The sponges don't suck up all your concealer or highlighter, but blend it well. I will never use another one.

I`m very pleased to get this latex free, multicolored kit. I love that the sponges do not smell. The container makes the sponges easy to store after use. I`ll purchase this set again as a gift for my friends.

Multi-functional awesome set. Blenders are so soft and don't absorb a lot of the beauty product. Would recommend to anyone looking for an expensive sponges alternative.

Quality blenders, the colors are bright and pretty, no smell. The storage box is cute, recommend as a gift for the make-up lovers.

Nice blenders, the set is so cute – 8 bright colored sponges in an "egg carton". The quality is great. Best purchase for your value!

I really love a plastic container that allows to keep the sponges clean and fresh until further use. Definitely will order again!

Super cute! Use them for my make up every day. Highly recommend and will buy again.

These set is great for its price, while the sponges seem to smear the product a bit rather than blend…. Still think it's worth trying.

Pretty kit, but the sponges absorbed more product than I would like.